About the Virtual Temple of Tutankhamun
"May your ka live, and may you spend millions of years, you who love Thebes, sitting with your
face to the north wind, your two eyes beholding happiness."
--inscription from the 'wishing cup' found in the entrance of Tutankhamun's tomb

A view of Medinet Habu, just south of Tutankhamun's original temple ruins
What is a "Temple of Millions of Years"?
In ancient Egypt, it was customary for each Pharaoh to commission a memorial temple in his name. These "Temples of Millions of Years", as Egyptians called them, were places of devotion to the gods during a Pharaoh's lifetime; after his death, they also became commemorative shrines. Famous Pharaohs such as Amunhotep I and Ramesses II were venerated, much as saints are today, in their own memorial temples for centuries after their passing. Tutankhamun's own Temple of Millions of Years was usurped by his successors, then ultimately destroyed. But today, having become the most famous Pharaoh of all time, it is only fitting that Tutankhamun, or "King Tut", have the first Virtual Temple of Millions of Years.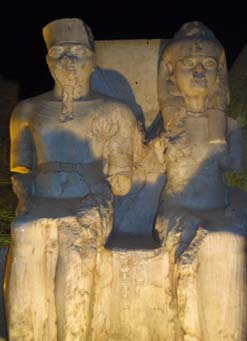 The pharaoh and his queen, from Karnak
So, what's the Virtual Temple of Tutankhamun All About?
The site began in 2005 as a simple e-shrine with information and a few links about the famous Pharaoh and his world. In response to a lack of reliable online sources, the virtual Temple has expanded over the last five years to include information about Egyptian religion and holidays in both ancient and modern contexts. With a small corner of realspace to call our own and a growing circle of friends both online and off, our goal is now to eventually establish the Temple as a functioning Egyptian polytheistic church, with Tutankhamun as our 'patron saint'.
So whether you practice a form of the Egyptian religion, or any other faith--Buddhism, Wicca, Christianity, or even none at all--you are equally invited to join us for some good reading and good feelings. This Virtual Temple is an independent place of learning and spirituality. So, welcome and Em Hotep (In Peace)!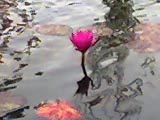 Back to Temple Main Page